2023-10-16 09:04:10
|
250
The language would give government employees and contractors immunity from reprisal for coming forward about UFO encounters and programs.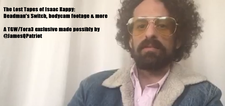 2023-10-14 15:20:42
|
250
The Goldwater - The Lost Tapes of Isaac Kappy: Tora3 & TGW Exclusive!
2023-10-11 19:56:04
|
250
The World Is A Stage.....upport the channel:Cash App: $OfficialTruthZoneYoutube Membership: https://www.youtube.com/channel/UCHtD3IWHSl1-5JOQ0spD-9g/joinPatr...